Large companies often have a critical need for specialized software that operates within their own in-house network, through their own servers, that allow simultaneous input, retrieval and updating of information from multiple users. When this type of application functions badly, chaos results and production grinds to a crawl.
Our Outflow Technologies™ teams go into one-on-one consultation with those who live with these problems, identify each user's needs, and using state-of-the-art hardware and programming, tailor-make effective software applications that speed any multi-tasking function within a company, no matter how large.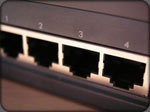 From consultation with a customer, to perfecting a concept, all the way to a completed, installed and smoothly operating system, and a staff trained to use their new software, Outflow Technologies™ is with you all the way. (For further information on how we do this, visit our 'Development Method' section)
We create state-of-the-art network software solutions that mirror a large company's internal needs and structure. This let employees get on with their jobs, not do battle with their workstations.