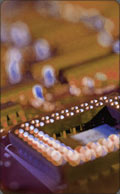 Outflow Technologies™ provides innovative and comprehensive solutions that run over the Internet. This is a client/server application set up with the browser as the client (the presentation layer), publicly available web server(s) as the business layer, and a relational database(s) as the data layer, hosted and available to the worldwide web. Whether a company wants to develop a security-sensitive corporate application designed to operate around the world, or a public site with heavy traffic, the technical design, development and implementation can either create a bonanza for a company or a nightmare.
We prefer to use the 'V' development methodology. This allows us to release the project in staged phases so the client can test and implement as the project progresses.
For more information on the "V" methodology, please visit out Development Methodology page.
We operate in close accord with the requirements as established by the client and make regular submissions for client review and approval, moving on to the next portion of the project only after client approval has been met. This phased method produces faster, cleaner results and gets the client trained step by step giving a more thorough and more efficient implementation.
---
| Technologies |
The technologies that we use as our core platforms and languages are:
ASP.Net (VB.Net/C# and HTML)
HTML
JavaScript (for additional client side functionality)
Flash and Action Scripting (for rich user experiences)
Transact-SQL (TSQL - for data driven procedures)
MS SQL Server Database
Windows 2003 Server
All HTML 4.0 compliant browsers for PC and Mac
SSL (Secure Socket Layer)
---
Outflow Technologies™ can also provide hosting and support for any developed Web based solution(s), however, it is not a requirement that Outflow Technologies host any of these projects. Support can also be provided for client or third party hosting solutions.